Anadarko Basin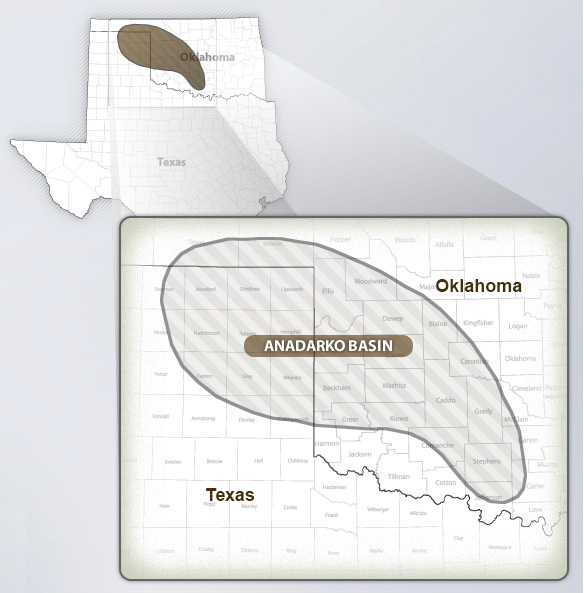 The Anadarko Basin Province covers almost the entire western part of Oklahoma, the southwestern part of Kansas, the northeastern part of the Texas Panhandle, and the southeastern corner of Colorado. The province is bounded by major uplifts–the Wichita-Amarillo Uplift to the south, the Cimarron and Las Animas Arches to the west, the Central Kansas Uplift to the north, the Pratt Anticline to the northeast, the Nemaha Uplift to the east, and the Southern Oklahoma fold belt to the southeast. The Anadarko Basin is a large, deep, two-stage Paleozoic basin that is petroleum rich, and generally well explored (mature).
The province, as defined herein, includes an area of about 50,000 sq mi, and contains a thickness of sedimentary rocks that probably exceeds 40,000 ft in the deep southern part. The sandstones comprise only a small part of the overall volume of basin rocks, however account for much of the petroleum production in the basins. The province overall produces primarily gas. According to recent production data more than 2.3 BBO and more than 65.5 TCFG have been produced from the province since the early 1900s.
The surface area of the province has been drilled at least 200,000 times for an average of about 1 well for each 0.25 sq mi. This drilling density decreases significantly with depth. Drilling density in the deep basin is even lower.
Twenty-five plays are identified in this province. Assigned to these plays are more than 1,100 known accumulations, each with a minimum expected ultimate recovery of 1 MMBO or 6 BCFG.
Return to the US Current Operations Map ►